About the portfolio manager's firm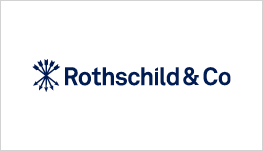 Rich history: More than 200 years in financial services


Depth and breadth: Employing approximately 2,800 professionals in 40 countries


Their philosophy: "Diversification is good, but diversification of risk is even better"


The NBI SmartBeta Funds (the "Funds") are offered by National Bank Investments Inc. ("NBI"), a wholly owned subsidiary of National Bank of Canada. Rothschild Asset Management Inc. ("Rothschild") acts as portfolio sub-advisor for the Funds. Commissions, trailing commissions, management fees and expenses all may be associated with investments in the Funds. Please read the prospectus of the Funds before investing. The Funds' securities are not insured by the Canada Deposit Insurance Corporation or by any other government deposit insurer. The Funds are not guaranteed, their values change frequently and past performance may not be repeated.

An Investment Management Agreement has been entered into between NBI and Rothschild Asset Management. Views expressed by Rothschild regarding an investment philosophy, outlook and/or strategy do not necessarily represent the views of National Bank of Canada and its subsidiaries and are not a recommendation to buy or sell and may not be relied on as investment advice. Any such views are subject to change at any time and National Bank of Canada and its affiliates disclaim any responsibility to update such views.

The information and data provided in this document, including that provided by third parties, were considered accurate at the time of publication and obtained from sources considered reliable. We reserve the right to modify this information without notice. This information and data are provided for information purposes only. National Bank and its affiliates make no guarantee, implicit or otherwise, as to the quality, accuracy or completeness of this information and data. This document is intended to provide information of a general nature and must not in any case be considered as offering investment, financial, tax, accounting or legal advice. This document does not in any way suggest the purchase or sale of any security whatsoever and the reader is strongly encouraged to consult a financial advisor and/or professional tax advisor before engaging in the purchase or sale of any security.

© National Bank Investments Inc. All rights reserved. Reproduction in whole or in part is strictly prohibited without the prior written authorization of National Bank Investments Inc.